Artist Jules Alexandre Grun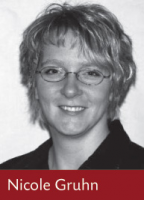 born in 1974, she lives and works in Germany.
Plunge into the world of the Koi carp .Nicole Gruhn is one of those inspired artists who impress through the striking but nevertheless very persuasive choice of subjects. She lets us dive into the world of the koi. These large ornamental fish, have a variety of markings on their bodies. These markings and colours form the background against which the well-formed bodies are silhouetted.During her journey of discovery through the koi reservoirs, she discovered time and time again unusual and comical shapes which with a lot of imagination can be interpreted as trees,women's bodies or coffee cups.