Artist Ron Van Der Werf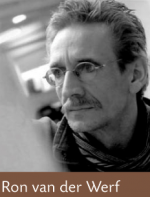 ...born in 1958, lives and works in The Netherlands.
Pictorial Surfaces and Traditions
Although he uses acrylic paints, Ron van der Werf also uses formal methods belonging to 20th-century artists, in order to develop his own pictorial ideas.While Antonie Tapies and Kline are his references, he succeeds in distancing himself from them to create a structured composition underscored by a disciplined range of colours. Strips of canvas and cardboard run through his colourful compositions. Texture and paint intermingle, giving the real object its own life and a sense of reality. One does not look at a Van der Werf painting. Instead, one listens quietly to the dialogue taking place between materials and colourful surfaces.