Artist Joan Miro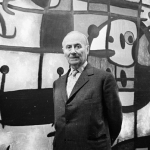 Miro was the son of a watchmaking father and a goldsmith mother, he was exposed to the arts from a very young age.
There have been some drwaings recovered by Miro dating to 1901.
When he was only 8 years old. Miro enrolled at the School of Industrial and Fine Arts in Barcelona until 1910; during his attendance he was taught by Modest Urgell and Josep Pascó.
After overcoming a serious bout of typhoid fever in 1911, Miro decided to devote his life entirely to painting by attending the school of art taught by Francesc Galí. He studied at La Lonja School of Fine Arts in Barcelona, and in 1918 set up his first individual exhibition in the Dalmau Galleries, in the same city. His works before 1920 (the date of his first trip to Paris) reflect the influence of different trends, like the pure and brilliant colors used in Fauvism, shapes taken from cubism, influences from folkloric Catalan art and Roman frescos from the churches.